black oak mine usd COVID-19 Case Number Dashboard
Top of Page

BOMUSD Board Says Good-bye to Ebitson and Welcome to Dodson
Top of Page
At the December 15 meeting of the Black Oak Mine USD Board of Trustees, Ronnie Ebitson was honored with the Excellence in Education award for his eight years of service on the board and also for his many years as Lead Custodian and coach prior to his time on the board. Superintendent Jeremy Meyers told the community that "Ronnie is the kindest, most well-intentioned man, a loyal friend to staff and students alike, who was destined to be a counselor". (After Ronnie "retired" he re-entered college and completed his degree in counseling. He is currently employed by the state prison system.) Meyers went on to say, "words cannot describe what we feel about Ronnie's board service. During his tenure, this has surely been one of the best boards in the state. Thank you for your eight years!"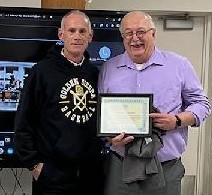 Meyers went on to say, "Welcome to our newest trustee: Andrea Dodson. I wish you the best." Dodson was sworn into boardsmanship by Meyers. Dodson moved to the Divide in 2005. Her husband was born and raised in Lotus. She has a degree from the Brooks Institute of Photography in Santa Barbara, earned her real estate license in 2016 and just recently started her own insurance agency. She was a board member of the Jr. Grizzlies in 2018-2020 and is currently active on the ALT Dolphins board. She is also a member of Friends of Golden Sierra. When asked about her goals as a member of the board, she stated she "has a passion for children, loves sports and our small schools in which you can know all the kids." She hopes to be involved in enhancing the sports programs by boosting the involvement of students and helping parents become more involved, informed, and understanding of how to share their concerns. She hopes to find out what resonates with parents. She considers the district's role as service oriented and hopes to help the customers find ways to be involved.

Spotlight on Education Podcasts
Follow Black Oak Mine's podcasts highlighting some of the many programs and services we provide. Access them in Apple or Spotify.
Learn More
Parent Education Series
Information about public education and extraordinary things happening in the BOMUSD
Learn More