black oak mine usd COVID-19 Case Number Dashboard
Top of Page
Meet Your BOMUSD Board of Trustees

Top of Page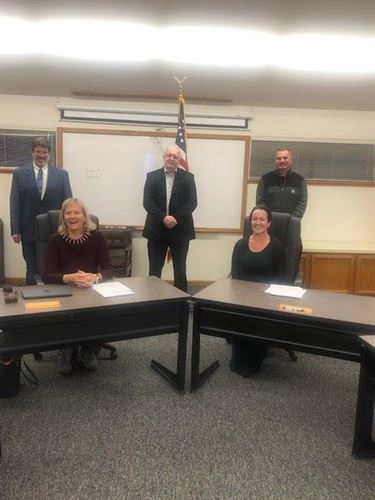 BOMUSD Board of Trustees
Front from left Darcy Knight, Crystal Miller
Back from left Bill Drescher, Ronnie Ebitson and Jeff Burch
California TK-12 schools are public institutions that belong to the communities they serve. Responsibility for their fiscal health, effectiveness and accountability for student achievement is granted to locally elected boards. Members of the Georgetown Divide communities elect five representatives for four-year terms to the Black Oak Mine Unified School District Board of Trustees.
Who are these dedicated public servants?
Darcy Knight is the current president and serves Trustee Area 1. Knight joined the board twenty years ago when her three sons were students in the district. She is a recently retired Elk Grove school counselor. In addition to her BOMUSD tasks, Knight also serves on several El Dorado County education committees. Knight attends many district events and is always eager to interact with staff and community members.
Ronnie Ebitson, Trustee Area 1, has served since 2014. Ronnie was a classified employee in the district for twenty-nine years and coached twenty-two of those years before returning to college and earning his masters in counseling. He brings a wealth of "institutional memory" to his work on the board due to his lengthy experience with district procedures, his friendships and his devotion to student success.
Jeff Burch, Trustee Area 1, was appointe
d to the board in May 2014 to fill a former trustee's position. He ran unopposed in 2014 and 2018 and has served as Board president. Being a firefighter, Burch is a strong supporter of the district's Career Technical Education programs as well as those for college-bound students. "I think we need to do what is in the best interest of every student and their future, which benefits society as a whole."
Bill Drescher, Trustee Area 2, was elected in 2014 and served as Board president for two years. Drescher has four children in district schools. In 2020, Drescher was selected by the El Dorado County School Boards Association as the recipient of the Educational Statesmanship award. He says he "has enjoyed partnering with staff to find creative solutions to meet the specific needs of the community and is proud of the district's accomplishments under these very challenging circumstances."
Crystal Miller represents Trustee Area 2 and joined the board in November 2020. She has two children in the district and is a graduate of Golden Sierra High School. Like Ebitson, Miller has a wealth of knowledge about the district. Her expertise in finance will be an asset to the board.
The Georgetown Divide is also represented on the El Dorado County Office of Education Board of Trustees by Heidi Weiland, who has served for twenty years. Weiland credits her desire to serve on her own school experiences. She strives to "look out for the rights of students and parents, to work to overcome implicit bias in schools." When asked for her "pearls of wisdom" pertaining to boardsmanship, Weiland said, "Trust yourself. If you have a question, ask it. Listen to those who speak the least."
Regular BOMUSD board meetings are held on the second Thursday of each month with periodic special meetings and study sessions. Currently, meetings are being held virtually.
The Board meeting calendar, agendas and log-in information is available under the "Our District" tab on the bomusd.org website.
STUDENT REGISTRATION
Pre-enrollment for 2021-22 school year is now open.
To assist families with academic, social and emotional concerns and to connect
families on the Divide, please complete this referral form.
Regular Board Meeting
May 13, 2021
7:00 PM
District Office
Google Meet
Virtual Google Meet
To join the meeting virtually, copy and paste the link below
Dial in #: 1-910-745-6746
PIN: 734 824 600#
Telephones and computer microphones will be muted upon joining the meeting. When the meeting is opened up for communications/public comment and you wish to address the Board, press *6 on your phone's dial pad to un-mute your phone. If you have joined the meeting through the Google Meet and you wish to address the Board, either use the "raise hand" button or type in the chat and you will be put into queue.
Public comments/statements are encouraged to be emailed in advance of the Board meeting to publiccomment@bomusd.org. Emails received after 5:00 PM on the day of the meeting will be submitted at the next meeting. For further inquiries on public comment, please contact Shelly King at 530-333-8300 or sking@bomusd.org
Board of Trustees
Meet our Board members and learn about the policies that govern our school district.
Learn More
Nature Area
Our Nature Area offers opportunities in environmental education and Native American cultural studies.
Learn More
CORONA VIRUS INFORMATION AND UPDATES
This flu season has been complicated by recent reports of a novel corona virus. Check here for the latest updates.
Learn More