black oak mine usd COVID-19 Case Number Dashboard
Top of Page

Superintendents from Sacramento Region Visit BOMUSD
Top of Page
How did your district accomplish reopening five days a week? That was the question put to Black Oak Mine Superintendent Jeremy Meyers on Thursday, October 15 by eight regional superintendents: Dr. Ed Manansala, El Dorado County Office of Education; David Gordon Sacramento County Office of Education; Troy Miller, Arcohe Unified School District; Scott Loehr, Center Unified School District; Dr. Karen Schauer, Galt Joint Union Elementary School District; Katherine Wright, River Delta Unified School District; and Tim Herrera, Director of Communications, Sacramento County Office of Education.
In order to provide an answer, the team toured Northside School and Golden Sierra Junior Senior High School. They viewed classrooms, libraries, offices, nursing stations, kitchens, restrooms and outdoor facilities such as playing fields while students, teachers and all site staff went about their normal activities observing health and safety protocols.
Meyers reviewed the eight months of planning by the Reopening Task Force in partnership with all district leadership. He emphasized the importance of partnerships with other county leaders including Dr. Williams of the El Dorado Public health Department and the El Dorado County Office of Education. He also cited the ingenuity of district staff in creating a "shop" for the production of plexiglass shields which were made-to-order by staff to fit various classroom and office work stations.
"After these long months of planning, we were able to accomplish this district reopening thanks to our community and the positive relationships we have with our employee groups," said Superintendent Jeremy Meyers.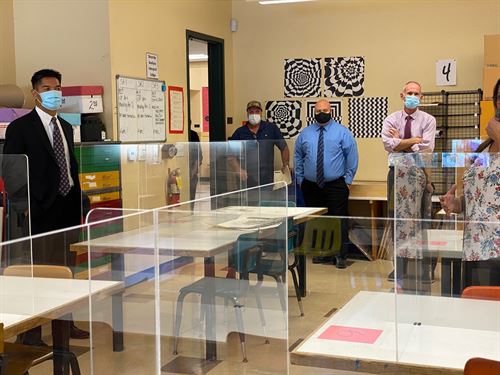 County Superintendent Ed Manansala, Maintenance Director Mark Koontz and BOMUSD Superintendent Jeremy Meyers join other regional leaders on a tour of Golden Sierra High School.
Board of Trustees
Meet our Board members and learn about the policies that govern our school district.
Learn More
Nature Area
Our Nature Area offers opportunities in environmental education and Native American cultural studies.
Learn More
CORONA VIRUS INFORMATION AND UPDATES
This flu season has been complicated by recent reports of a novel corona virus. Check here for the latest updates.
Learn More